THE BOLDEST MEMORIAL DAY TRIBUTE ON EARTH
Since 1983, the Memorial Day Tribute has been the grand finale of the BOLDERBoulder. It is open to the public and takes place every year at noon at the University of Colorado's Folsom Field. This ceremony gives our community the opportunity to pay our respects by honoring the men and women who have fought to protect our country and made the ultimate sacrifice for our freedom. See below for some of the annual highlights that have become traditions for us. Come out and join us in person! 
Sky Divers Carrying Flags of Each Military Branch
The Mile-Hi Sky Diving Team performs their traditional exhibition sky dive to kick off the BOLDERBoulder Memorial Day Tribute. All members of the Mile-Hi Sky Diving team are United States Parachuting Association certified professional exhibition jumpers. Throughout their history with the ceremony the group has varied to include BOLDERBoulder finishers, military personnel including Air Force Academy officers and Colorado natives.
Presenting Our Nation's Colors, Flyover and 21 Gun Salute
Each year a flyover is provided by the 120th Fighter Squadron from the Colorado Air National Guard, and a 21-gun salute is done by the University of Colorado NROTC members. 
One of the Largest Enlistment Ceremonies in Colorado
Each year we sing of our national anthem, and are honored to watch a group of enlistees take the oath to defend our country. The Star Spangled Banner originated in Baltimore, Maryland, September 1814.
Here we honor Stewart Boone, who served in World War ll in the 99th Infantry Division. Years ago when Stewart realized the military did not have enough Buglers to play Taps at military funerals and ceremonies, he committed to helping honor our veterans. Taps originated at Harrison's Landing, Virginia, July 1862.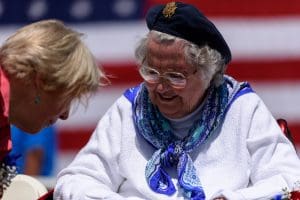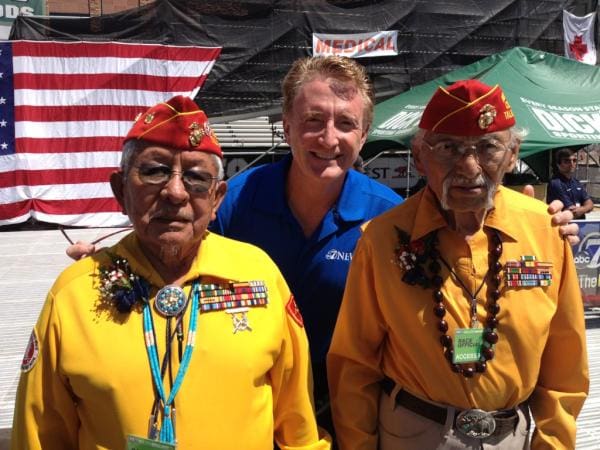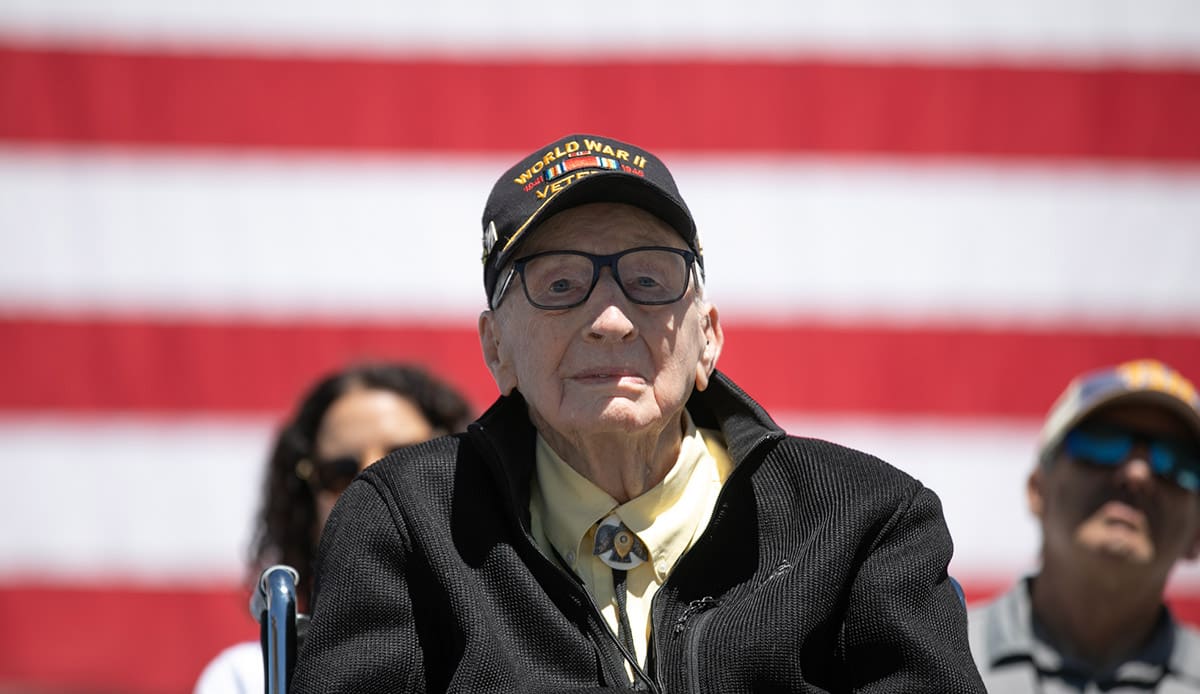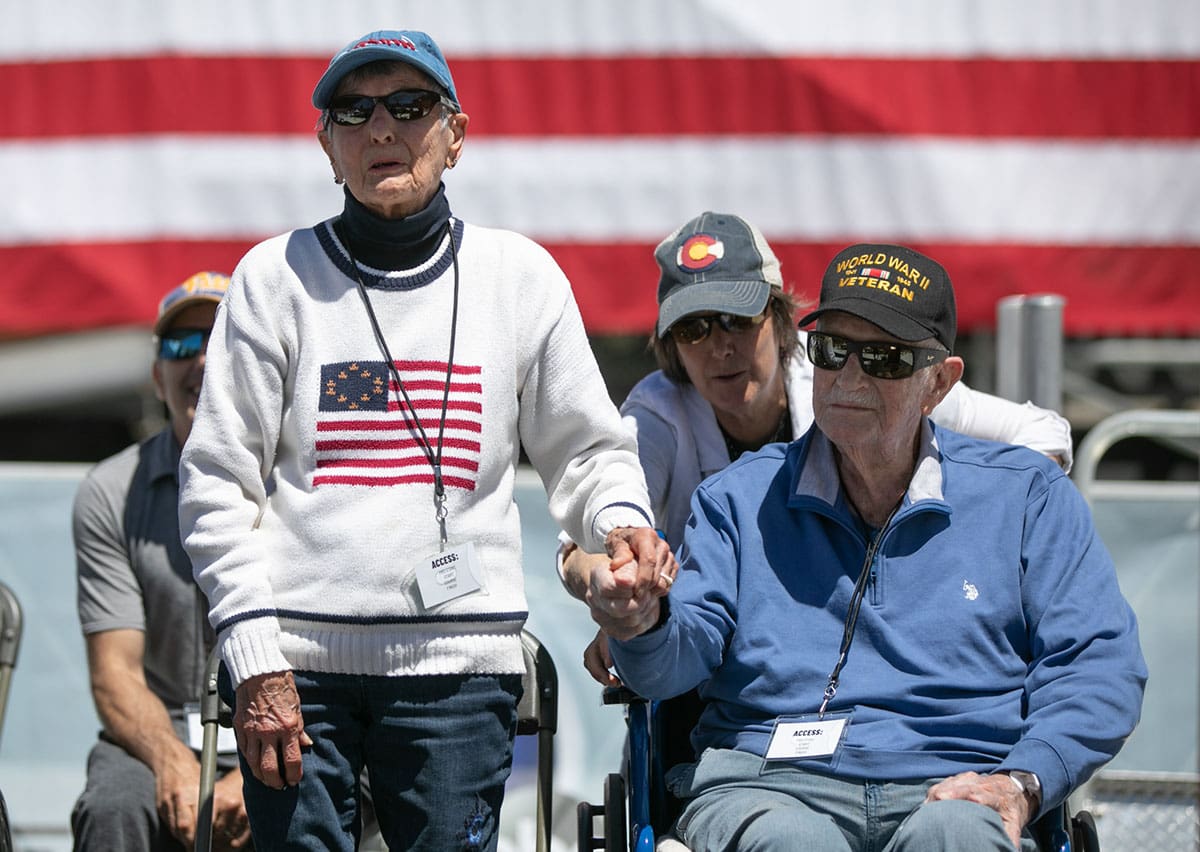 Each year we honor various service members by sharing their incredible stories. Over the years we have honored Gold Star Families, Tuskegee Airmen, 10th Mountain Division, Navajo Code Talkers, Special Forces and Medal of Honor recipients among others. After all the fun that is the BOLDERBoulder 10K, for us this always is the most powerful and solemn moment of the day. Expect goosebumps and to swell with pride and tears, every single time.  
The Memorial Day Tribute
The Tribute is open to the public and begins in Folsom Field at NOON on Memorial Day. With as many as 70,000 spectators, this has become the nation's largest Memorial Day ceremony. 
2019 - Gold Star Families
Gold Star Family are those who have lost a loved one in military service. The Colorado Freedom Memorial holds the names of over 6,000 Colorado Veterans killed or missing in action. It offers Gold Star families of Colorado a place to remember their loved ones. It honors the Coloradans who left to defend their country and never returned.
The first of the Gold Star Family Honorees at the 2019 BB was that of the family of Christopher Anderson. Nicknamed, Chris 'Doc' Anderson, he grew up in Longmont, CO. with his father, mother, and brother. His family expressed that Christopher had always wanted to join the Navy. He was deployed to Iraq in 2006 with the Marines as a Navy Corpsman. While on patrol, Sargent Greg Edwards lost both legs to an IED and Anderson was there instantly, providing both the medical and emotional support that saved Edward's life so he could return to his wife and daughters. A few months later, Anderson was killed during a mortar attack on December 4th, 2006. Upon the return of Anderson's body, his family along with his hometown of Longmont held a parade in his honor before he was buried in Arlington, West Virginia. In attendance at Chris's funeral was his family and against doctor orders, Sargent Edwards. While they remember Christopher every day, Memorial Day holds a new meaning for the Anderson Family and a reminder to have everyone come together.
The second of the Gold Star Family Honorees was father, Jeff Falkel. As a child, Chris Falkel had always wanted to follow in his father, Jeff Falkel's, footsteps and serve as a special forces soldier. In 2003, Chris achieved that dream as a Green Barret and was soon deployed to Afghanistan where he quickly received the nickname 'Junior'. After sniper school, Junior told his dad Jeff about his idea to make pens out of shell casings after he returned from Afghanistan. Unfortunately, Junior never made it home, in 2005 Junior was killed in action. To carry on his legacy, Jeff created "Junior's Bullet Pen Company" where he created pens in Juniors honor and to fulfill his dream. Jeff donates much of his proceeds to various military causes, and misses his son's smile and laughter.
The third and final Gold Star Family was the wife, son, and daughter of Charles Wyckoff. Charles met his wife Erika in 2002, and in 2004 Charles joined the Army as an Infantryman. He was soon after deployed and his love showed through the hundreds of letters sent home.  On June 6th, 2007 Charles was killed in action and received both a Purple Heart, Silver Star, and the distinguished service cross for his heroism that day. To this day, Erika credits her love for Charles that helps her carry on after his passing. She honors his memory through working with the American Legion and to her, every day is Memorial Day.
2018 - 10th Mountain Division
The 10
th
mountain division, formed in 1941, was the first US Army division designated for specialized combat in the mountains and artic conditions. Being trained in skiing, mountain climbing, snowshoes, and survival at high elevations. These were outdoorsman trained to survive at 10,000 feet and fight at altitudes that hadn't been trained for in the past.
Hugh Evans was the first honoree of the 2018 BOLDERBoulder, who joined the 10th Mountain division in 1943. Evans simulated combat at Camp Hale, CO. at the elevation of over 11,000 ft before he was deployed to Italy. In 1945 at Riba Ridge Italy, Evans and his troop scaled over 2,000 feet of rock at night and surprised Germans Troops to capture their strong holds. Evans captured multiple bunkers and forced numerous men to surrender. He received the Combat Infantry Man Badge, the Silver Star, the Bronze Star (post combat), and the Purple Heart.
The second honoree, John C. Russell, was a member of the 10th Mountain Division Light Infantry from 1988-1991, after the 10th Mountain Division was reactivated in 1985 based in Fort Drum, New York. This reactivated division was based on squad level maneuvers, where it was small unit focused, trained to survive in the harsh weather designed for quick deployment. Bringing his skills from his first 22 years serving in the army, Russell has helped to perfect logistics in this division. Russell was an interictal part in rebuilding what has now become one of the most deployed units in the army. During his time in the Army, he was deployed in Vietnam, Germany, England, and Iraq. He received the Bronze star and was a ROTC mentor.
The final honoree of the 2018 BB was Richard Over. Over was a part of the 10th Mountain Division from 1942-1946 in WW2 at Camp Hale, CO. Having a father in the marine core and growing up skiing made serving in the 10th mountain division a natural fit. After a short time at Camp Hale as a warrant officer in the army transport service, he was relocated to the Aleutian Islands near Alaska to build Military Strong holds. After the war was over, Over returned to Colorado to help develop the Colorado Ski industry in honor of the 10th Mountain Division, a monument to many who didn't return.
2017 - Comfort
This year was dedicated to the service men and women who comforted soldiers at their moment of sacrifice.
Leila Morrison was a U.S. Army Nurse Corp. during World War II. She had just graduated nursing school at the age of 22 when the Army needed nurses. She joined her mobile medical team in Europe, constantly in the face of danger. Near the end of her deployment, Leila provided aid at the liberation of the Bankenveld Concentration Camp. Remembering both the horror of those trapped in the concentration camp, but also, how appreciative they were, she recalls one young man in particular who was so thankful of the U.S. Troops. Today, Leila still talks openly about freedom and about the sacrifice of those Americans that defended it for us all. She hopes to share the message that freedom does come at a high price and a Memorial Day is a day to reflect on this.
 Captain Mike Rose, after years of nomination, received the Medal of Honor in 2017. Rose was a Vietnam Era Special Forces Medic who put his own injuries aside to help others who were wounded during operation Tailwind in Laos. This operation consisted of 4 straight days of chaos. He tended to 51 soldiers, guarding their bodies with his own during enemy fire, Rose was even hit by a rocket and survived a helicopter crash, but continued to protect and save lives. While he did save many lives, he is still amazed to this day that any of his team survived and feels he was just doing his job. Humbly talking about his experience, he notes that many soldiers have performed heroic acts in the line of duty who did not receive recognition. Memorial Day is a way to honor these fallen heroes.
Dave Smith is a Chaplain for Veterans coming home from Iraq and Vietnam. A Chaplain nurtures the living, cares for the dying, and honors the dead. Chaplain Smith tends to our service member at their moment of ultimate sacrifice and understands the need for support extends beyond the fallen. He provides comfort for the caregivers of the fallen and even the communities, including the precession when the fallen is brought home. On Memorial Day, he remembers those who he has served with and lost. He even remembers those who have served, survived, but are fallen in other ways, those who are healing morally while at home. Smith emphasizes that freedom comes at a price, and, encourages everyone to become more involved and support our Veteran community.
 &nbsp;&nbsp;<ul> <li><iframe src="//www.youtube.com/embed/LF3J-7e9k2U" width="560″ height="314″ allowfullscreen="allowfullscreen"></iframe></li></ul>
2016 - Special Forces
2015 - Four Coloradans in Aviation
2014 - The Battle of Iwo Jima