Thank you everyone for joining us on Memorial Day for the VirtuALL Memorial Day 10K and keeping the tradition alive!
What a Day! You were all RUNBELIEVABLE
TM

!

We will continue to update this page with all the great photos we are getting from everyone. Check them out below.

You can still purchase the Limited Edition Gear – to support COVID-19 relief in Colorado.
VirtuALL Unofficial Results
All times are unverified and displayed for your entertainment and enjoyment.
Your VirtuALL 10K Run
People joined us from over 20 countries around the world and in all 50 states! Thank you everyone for sharing your photos, videos, and messages about your #VirtuALL10K experiences with us. Please continue to tag us on the social channels, we are loving the creativity and tenacity you are all showing during these times. Don't have any social accounts? Email us at [email protected]
Chat with Olympian and Race Co-Founder Frank Shorter, 38 year broadcast vetran of the live show Tim Cronin and Race Director Cliff Bosely.
Facebook Live Q&A with Jared Ward, Ian Butler, and Nell Rojas.
So far YOU raised over $25,000
$5 from each purchase of our limited edition t-shirts or hats will go to the Help Colorado Now COVID Relief Fund.
We are all in this together and we will OverCome.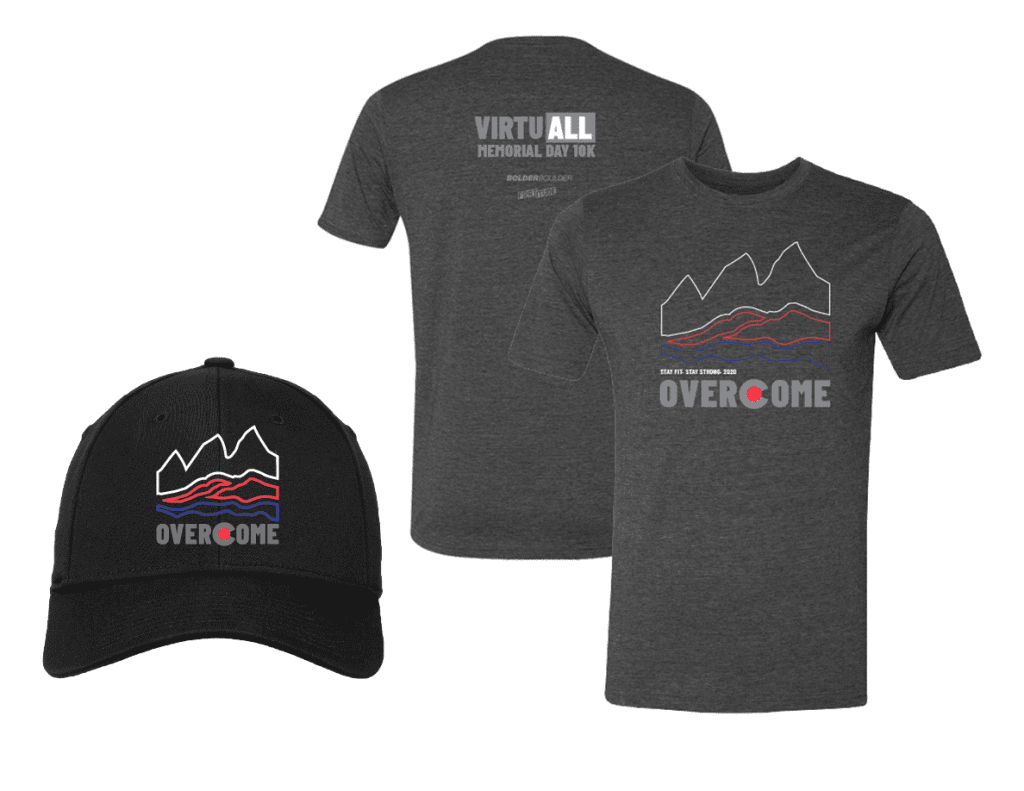 Thank you to our VirtuALL Memorial Day 10K Sponsors
What is the VirtuALL Memorial Day 10k?
This is new. And it's going to be Awesome!
We will run on Memorial Day – Separately!!
We will keep our Memorial Day traditions alive with several virtual start times, with individual starter guns, "on course" entertainment, a Memorial Day Tribute at noon, Participant's Certificates, and more. We may all be running separately, but we will celebrate our accomplishments together.
This is not a replacement for the actual BOLDERBoulder which is still planned for Labor Day 2020. But this is an opportunity for all of us to connect on the traditional date of the BB10k to honor one another and to honor those who have died in military service to this country.
What comes with my Registration?
Free downloadable Bib that you can personalize any way you like!

Option to purchase a limited edition t-shirt or hat. Remember this day and your accomplishments, a portion of the proceeds supports Colorado COVID Relief Fund. 

Once you run, you can submit your time for a customized Participant's Certificate.
How to submit a time
Times needed to be submitted by Wednesday, May 27th, in order to receive your Finisher's Certificate. This notification was sent in an email to all registered users on Tuesday, May 26.
Finisher's Certificates will be emailed out before June 1, 2020.
What about the BFC Club?
In 2020 this will be a little different, but It's still kind of a big deal!
We know you have big goals and love being a part of our races. We love that you do!
Run, jog, walk with us any way you can on Memorial Day, Labor Day, and during the ColderBOLDER weekend and you will be a part of the 2020 vBFC Club. Submit your results following the races and we will send you an official club certificate to recognize your BFC accomplishment.  
What about my running streak?
Join us virtually on Memorial Day, run with us on Labor day, or both! Everyone's streak will remain intact.
Can I start with friends or family? Yes.
Go walk, jog, run on Memorial Day. By yourself, with your family, virtually with friends. Observe social distancing recommended in your area, but have fun!
This is YOUR VirtuALL Memorial 10K so make what you will.
Run as fast as you want.

Wear a costume

Wear Red, White, and Blue

Make your own Start and Finish Lines

Run with your furry friend

Take on your own Slip n Slide

Share your experience with us! Tag your photos and videos with #OVERCOME #BOLDNATION #GOFORTANDCONQUER #

BOLDERBoulder and you could be a part of our run day experience and post-event video. As well as be entered to win an Altra prize!
When do I get my Limited Edition gear?
Any additional gear that has been purchased will be sent the week of May 18th. All orders after May 18 will be sent within 3 days from purchase. You will receive a tracking number via email from us when it has been packed and shipped.
There will also be a pickup option at our headquarters if you just can't wait to get your gear! Located in Boulder, a drive-through process with safe social distancing measures. You will receive a separate email with pick-up instructions
Can I run on the BOLDERBoulder Course? - No
Choose a safe route in your neighborhood, on roads, through parks, bike paths, trail, even on a treadmill!
We ask that you do not run the traditional BOLDERBoulder course on Memorial Day since it will not be closed to traffic. We want our participants to be safe and we want to adhere to current social distancing recommendations.