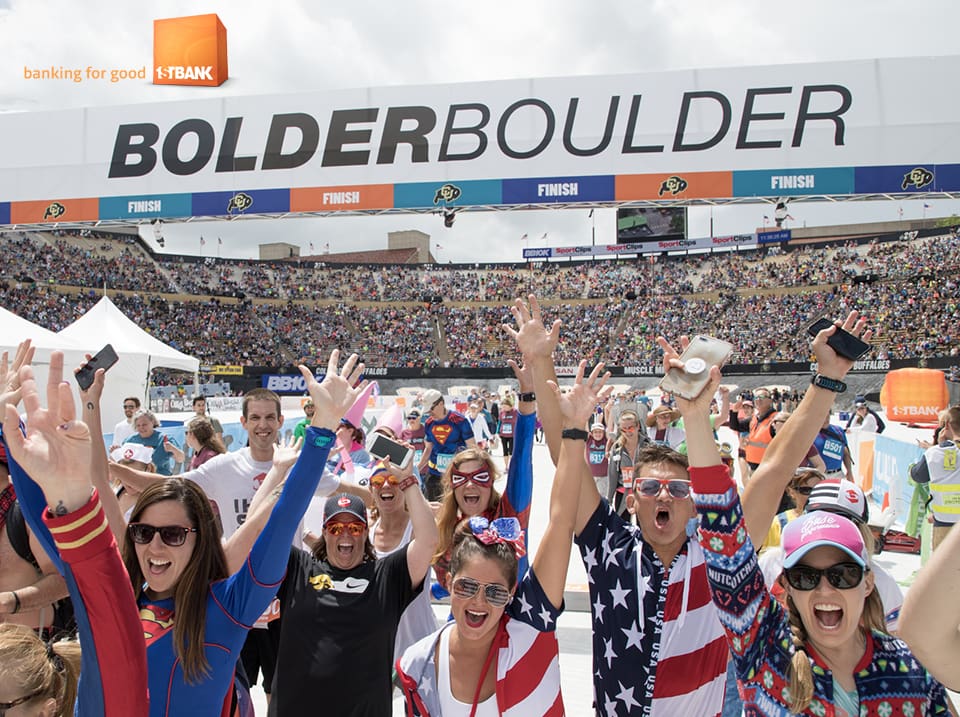 FirstBank Gets Coveted Top Level Race Sponsorship
BOLDERBoulder Announces FirstBank a Presenting Sponsor
Firstbank is the Bank that Keeps Colorado Running
The BOLDERBoulder 10K is proud to announce FirstBank as the Presenting Sponsor beginning with the 2022 race. FirstBank, one of the nation's largest privately held banks with a focus on "banking for good," will be featured as the top-level sponsor of America's All-Time Best 10K. FirstBank and BOLDERBoulder have been working together since 2009 and are excited by this bold move to expand the partnership for the annual Memorial Day tradition, which returns on Monday, May 30.
"FirstBank is proud to continue our partnership with BOLDERBoulder and help bring back one of the most highly acclaimed 10K's as the presenting sponsor," said Jim Reuter, CEO of FirstBank. "The BOLDERBoulder is not only an annual tradition for many runners on the front range, it is also a chance to honor Memorial Day and those who have given their life in service our country. We are so excited to celebrate the return of this great event with the residents of Boulder."
"In these unusual times, we are excited to celebrate the return of the race after two years of not running. It is even more exciting to have a sponsor who during these tougher economic times, has remained relevant, stable, profitable, and independent. The unique brand of service focused on "banking for good" continues to make a difference in the Boulder community and communities across Colorado." Race Director, Cliff Bosley lauded the continued partnership, "We couldn't ask for a better community partner."
FirstBank will join many other partners supporting this iconic event that runs on Memorial Day each year. The race was unable to run in 2020 and 2021 due to COVID restrictions. "There seems to be pent up demand and excitement from both our sponsors and race participants," states Bosley, "We are thrilled to be running live and in person on Memorial Day, May 30th."
In addition to the 10K race, which traditionally has over 40,000 registered runners, BOLDERBoulder will continue to hold the international professional race and host the country's largest Memorial Day Tribute. This year's race will be held on Monday, May 30th.
ABOUT BOLDERBoulder
The BOLDERBoulder, named America's All-Time Best 10K by Runner's World, is the 5th largest running race in the United States and the 7th largest in the world. The race attracts over 50,000 runners, joggers, walkers and wheelchair racers, and draws professional athletes from around the world. The annual in-person race starts at 30th and Walnut and winds through Boulder neighborhoods with live music and entertainment at every corner. The race finishes at the University of Colorado's Folsom Field and attracts over 100,000 spectators throughout the course.
The race was not held in 2020 and 2021 due to COVID restrictions. This year's race (May 30th, 2022) will be live and in-person and marks the 42nd running of the race.
About FirstBank
FirstBank began providing banking services in 1963. Today, it's known as an industry leader in digital banking and has grown to be one of the largest privately held banks in the United States, maintaining more than $28 billion in assets and 100 branch locations across Colorado, Arizona and California. FirstBank offers a variety of consumer deposit accounts, home equity loans, mortgages, rental property loans and a full range of commercial banking services, including business financing, commercial real estate loans, treasury management and more. Since 2000, FirstBank has been recognized as a top corporate philanthropist, contributing nearly $80 million and thousands of volunteer hours to charitable organizations. The company is also unique in that a large portion of its stock is owned by management and employees, giving employees a financial stake in the bank's success through its Employee Stock Ownership Program. For more information, visit www.efirstbank.com. MEMBER FDIC